> Home > Tracks
Water, Stone and Castles
Rapolano Terme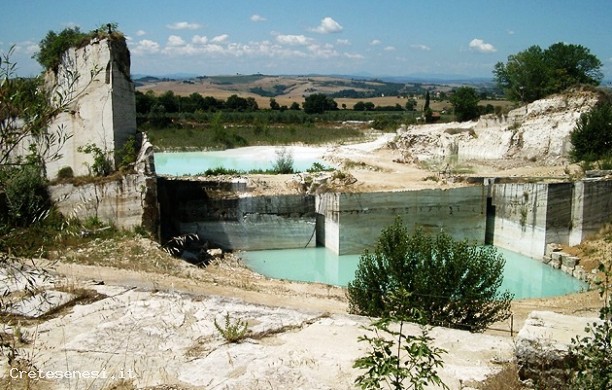 TECHNICAL DETAILS

Track length: 31,9 km

Road bed type: Misto Asfalto/sterrato

Difficulty: Media


Path long enough, about two-thirds of asphalt and gravel road white for the rest. Inclines to deal not particularly challenging.

Keeping true to the title of the course, the expected departure from the Terme Antica Querciolaia. Initially it crosses the village of Rapolano and then take the road to Asciano on the right, before the ascent of Riccia.

From here begins a journey that takes place primarily on a balcony overlooking a beautiful area marked by gullies Cretaceous on the right side. After a few miles, past the old furnace of Poggetti, turn left towards Serre.

Crossed the level crossing, there is the junction for the travertine quarries on the right. Here begins the path of the stone marked by amazing visions on the old quarries of travertine, often flooded by water after their abandonment.

At the end of this road crosses the Lauretana Antica which, until modern times, was the main link between Siena and the Valdichiana. Turning left follow it until you get to Rigomagno.

In this section we meet the Castle of San Gimignanello that meritara a detour of a few meters from the path for a fleeting visit. From here, taking a steep descent, you reach the bottom of the valley to continue on the old road through the bridge on the highway.

Before reaching Rigomagno station, we meet on the left a beautiful church surrounded by cypress trees which unfortunately can not be visited. From Rigomagno Station, where there is the old bar "Trombetta", equipped for tasty breakfast of sausages, continue to Lucignano.

Shortly after the village, you reach the junction for Calcione. From here begins the road that touching the bottom of the reservoir Calcione, leads to the beautiful castle of Modanella.

At the junction, past the castle, turn right along a flat road that passes near a series of old estates architecturally very beautiful and skirting the hill of Poggio Santa Cecilia, back to the starting point.
STAY

NEARBY
DINING & ENTERTAINMENT

NEARBY
Water, Stone and Castles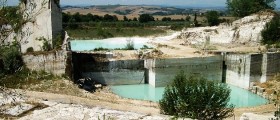 Percorso abbastanza lungo, per circa due terzi su asfalti e su strada bianca imbrecciata per il rest