> Home > What to visit > Castles
Bibbiano
Buonconvento
CASTLES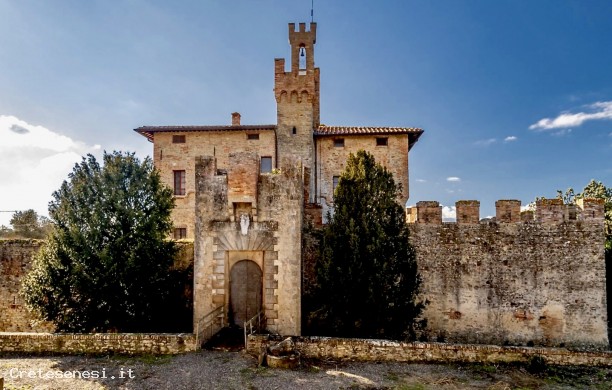 The fortified settlement of Bibbiano has existed since at least the nineteenth and fifties, property of the Lombard count Guinigi di Reghinari, imperial legate at the time of Ludovico II. The name Bibbiano derives from 'Bibbio' (in Latin bibianum), an aquatic bird also called Wigeon and similar to the duck, of which these lands were rich.
Property of the Guiglieschi, in 1051 the emperor Arrigo III handed it over to the protection of the Abbey of Sant'Antimo.
Then, Bibbiano passed to the Cacciaconti who, in 1197 donated it to the Sienese Republic, which implemented its structural strengthening. Further additions and restorations were carried out in 1338 and 1400.
Although it was used more as a residence than as a fortress, Bibbiano still presents itself today in its proud aspect of an impregnable medieval castle: a massive quadrilateral surrounded by a moat, with the main door equipped with a drawbridge, two walls with slits and a complete walkway. patrol.
In addition, there were two corner turrets with a defensive apparatus protruding on stone corbels. Of the two turrets, both located on the western front, one is still intact while the other has disappeared.
There is also a central keep, partially rebuilt after the 1909 earthquake and with a roof resting on the existing Guelph battlements.
STAY

NEARBY
DINING & ENTERTAINMENT

NEARBY